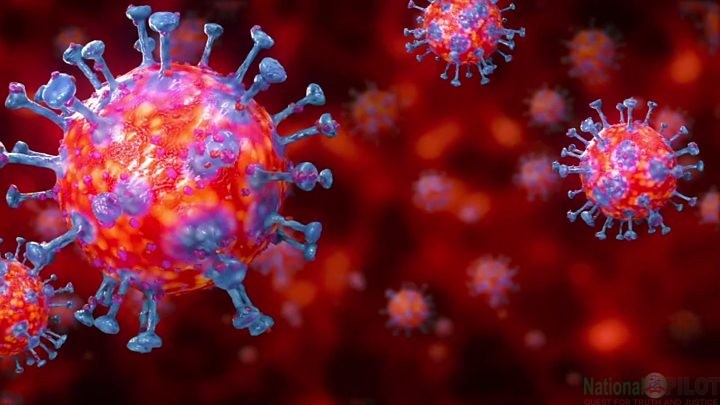 The Nigerians in Diaspora Organization Europe (NIDOE), has disclosed that no fewer than 22 Nigerians have so far died of the Coronavirus (COVID-19) disease in Europe.
According to the organisation there was record of 18 deaths in UK, 3 in Italy and 1 in Spain, while, no less than 25 others are currently hospitalised because of infection with the virus.
A statement issued by Chairman of NIDOE, Hon. Kenneth Gbandi, said the figures were compiled from the information provided by the country chapters of the organisation. However, observers believe that the figures are most likely to be much higher since those cited were cases that were well known in the respective Nigerian communities.
Prominent among the deceased Nigerians who are victims of the pandemic in Europe are Dr. Alfa Saadu, a UK-based retired medical doctor who died on Tuesday (31 March) in London. He was infected with the virus while volunteering in a hospital in London. Early in March another Nigerian, Saraju Olumide Okunuga, died in the Italian city of Modena. A pathologist, he was the president of Egbe Omo Yoruba in the Emilia Romagna region and the vice president of Yoruba National Community Italy.
Gbandi, therefore, called on Nigerians in Europe to adhere to official social contact restrictions to protect themselves and their families, while encouraging community leaders – be they cultural, religious, political and social, to mobilise their members for mutual support at this critical period.
NIDOE is currently carrying out a campaign, tagged NIDSAFE, to encourage Nigerians in Europe to adopt various self-help measures to support each other and also lend a helping hand to their compatriots at home as a result of the emergency situation caused by the coronavirus pandemic.
Meanwhile, the Nigerian Government had last week released a list of Nigerians, who died of Coronavirus abroad since the outbreak started weeks ago.
Chairman, Nigerians in Diaspora Commission, Abike Dabiri-Erewa, made this known through a video containing the names, pictures and countries of residence of the departed Nigerians.
In the video posted on her verified Twitter handle, 13 Nigerians abroad have so far died of the virus.
Of the 13 persons, eight died in the United Kingdom while five died in the United States.
The 55-second clip listed the Nigerians killed by the virus in the UK as Dr Alfa Sa'adu, Carol Jamabo, Dr Kole Abayomi, Bode Ajanlekoko, Adeola Onasanya, Ugochukwu Erondu, Chidinma Olajide and Mmaete Greg.
Bassey Offiong, Caleb Anya, Akeem Adagun, Laila Abubakar and Patricia Imobhio on their part were killed by the infection in the United States.
In a related development, owner of a popular Nigerian restaurant named Amarachee in Brooklyn area of New York, Jonathan Adewunmi, has died of complication from Coronavirus.
The news of his death was announced on social media by his close friend and show promoter, Paul Okoye.
Oloye who took to social media to mourn his demise, said, "My man why? Jonathan Rip. Coronavirus why? So many things we planned this summer. Gone so soon brother."
In the same vein, the Consul General of Nigeria in New York, Mr Benaoyagha Okoyen, who confirmed the death of three Nigerians from the coronavirus disease (COVID-19) in the United States.
Okoyen made the announcement in a statement in New York on Saturday evening.
He said one of them, a doctor from Abia, contracted the virus while on duty in New York, the epicentre of the pandemic in the U.S.
The envoy identified the second person as 25-year-old Bassey Offiong, a final year Chemical Engineering student of Western Michigan University whose case has been reported by the Nigerian media.
Okoyen said: "It is regrettable to announce that three Nigerians have died of COVID-19 in the United States of America.
The consul general saluted the sacrifice of medical personnel and other essential workers risking their lives on the frontline to save others.
Nigerian-born Dr Alfa Sa'adu died while volunteering at a London hospital in April. The death rate from COVID-19 in the UK is four times higher for Black people than for their White counterparts. In fact, Blacks and other minorities account for two-thirds of health worker casualties
…Tributes
However, deluge of tributes have continued to pour in for Nigerians in the diaspora how succumbed to the cold hands of death as a result of COVID-19.
Death arising from coronavirus complications caught Chidinma Olajide unawares. The middle-aged nanny was a loving mother who wanted to be available for her three kids at all times. She never knew death was lurking in the shadows to take her away from Tolu, Anisa and Josiah so soon.
Few days before she succumbed to COVID-19 early April, Olajide, based in the United Kingdom, wrote of her experience on Facebook while isolating at home.
In her March 20 status update, she recalled that a postman delivered a parcel at her doorstep that day without having physical contact with each other.
The previous day, on March 19, she had urged everyone to be calm, prayerful and observe the guidelines to prevent contracting the dreaded virus which has killed thousands and infected millions.
The post later appeared as a veiled reference; she had been infected and some days later, the pandemic took her away.
The sad news came as a rude shock to her relations and friends who shared glowing memories of her on the Internet.
Olajide from Imo State was one of the 13 Nigerians in the Diaspora who died of COVID-19, according to a short video recently released by the Nigerians in Diaspora Commission.
A health worker at Cherish Elderly Care in Manchester, Carol Jamabo, loved tendering to old people, a job she took up 25 years ago after she relocated to the United Kingdom from Nigeria.
At 56, the carer was full of zeal, ever willing to give her best to the job. Unfortunately, the virus dealt her a huge blow while laying her life for others to live.
Well loved by family and friends, Carol was a dependable figure who dedicated her life to charity and community service, Asito said.
"She travelled to the UK for better life prospects. She was a hard working mother of two with zeal to help charity and community service. She joined a medical outfit as an administrator," Asito stated.
He said Carol's role in the family was invaluable, adding that despite relocating abroad, she was always in touch with family members at home.
Other Nigerians who died in the UK include a mental health practitioner, Bode Ajanlekoko, one Ugochukwu Erondu and a former medical director, Alfa Saadu.
Saadu, 68, died on Tuesday, March 31, at the Whittington Hospital in North London.
The doctor, who hailed from Kwara State, was a medical director at the Princess Alexandra Hospital in Essex and Ealing NHS Trust. He also worked at many hospitals in London.
He was said to have shown symptoms of coronavirus two weeks to his death and immediately went into isolation.
His son, Dani Saadu, told the British Broadcasting Corporation that the family suggested he should go to hospital, but his father insisted he "did not want to take up a hospital bed because others would need it."
The Princess Alexandra Hospital, where Saadu worked until December 2017, also paid tribute. "Our condolences to you and your family; our thoughts are with you all," the hospital said.
Former Senate President, Dr Bukola Saraki, also shared his condolences via Twitter, noting that Saadu provided leadership for Kwarans in the Diaspora, as Chairman, Kwara State Association of Nigeria (KWASANG UK).
"Back at home, he was a community leader and traditional office holder as Galadima of Pategi. He will be sorely missed," Saraki added.
Saadu's colleague, Dr Charles Cayley, who worked with him at London North West University NHS Trust, described him as a "pleasure to work with."
In a poetic tribute to Erondu, a Nigerian who also died of coronavirus in the UK, the deceased's friend, Michael Onwunali, said he could not imagine Erondu wasn't around anymore.
He said losing his childhood friend was like a bitter wine and contaminated water forced down his throat.
At 64, Nmaete Greg, a retired police officer in London, lived every day heartily, savouring all the good times with her family.
The native of Ikot Nya in the Nsit Ibom Local Government Area of Akwa Ibom State still hoped to enjoy many more fruitful years with her husband and their four children but coronavirus denied her of living that dream. She died on Monday, March 6.
Udeme's elder brother, Nkere Philip, had told The PUNCH that the family was hopeful Maette would recover from the virus.
Philip had said, "She was not in the hospital for long….When I spoke with the husband over the phone, he was still perplexed because everything happened so suddenly and he and the children did not expect that she was not going to be back home from the hospital."
In another heartbreaking loss caused by COVID-19, a Nigerian-American student, Bassey Offiong, was few weeks away from his graduation at the Western Michigan University when he died after being reportedly denied test several times in Michigan. The 25-year-old was studying Chemical Engineering.
His cousin, Rosalyn Afiong, in a tribute on Facebook, described him as a "shining light."
Afiong wrote, "My dear sweet cousin, this is unreal. I don't even know where to begin. May your soul rest in eternal peace. You did everything and more with your time on earth, and although you weren't anywhere near done in your purpose. You've been called for a higher purpose bigger than us all. I love you so much and I pray you to keep that same light shining on us from above."
The Kalamazoo County Health and Community Services Department also shared condolences in a statement, saying "it was saddened to learn of the death of a Western Michigan University student due to COVID-19."
In a press briefing in Abuja on March 16, the Minister of State for Health, Adeleke Mamora, also announced that a Nigerian doctor based in Italy, Olumide Okunuga, died in Canada after contracting coronavirus.
For 20 years, 55-year-old Esther Akinsanya worked with the National Health Service, United Kingdom, rising through the ranks from being a cleaner to a health care assistant.
But as a frontline worker, she fell ill recently after exposure to COVID-19 patients. She eventually died of the disease at the same hospital where she worked for two decades.
In an interview with a London-based ITV News, Esther's son, Samuel, described his mother as an outgoing and warm person who was always helping others. "She did the best she could," he said.
While efforts to get vaccines gathers momentum with some light at the end of the tunnel, COVID-19 has globally disrupted living patterns, economies, sports, and education, among other critical sectors.