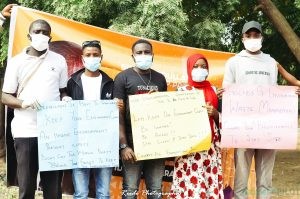 Mentees of the Bolaji Abdullahi Mentorship Programme, BAMP, on Saturday, visited Oke-Ose community in Kwara State for their sensitisation and sustainable waste management project.
The project, themed "Friends of the Environment" is part of the Programme's community service and social impact project that is designed to inculcate in mentees the spirit of community and collective impact.
The project which was adopted in the light of COVID-19, is to help raise awareness on the need to maintain clean and healthy hygiene and to also sensitise the people on the importance of proper and sustainable waste disposal.
The project is in collaboration with Vicfold, a recycling company based in Ilorin, Kwara State.
At Oke-Ose, mentees did not only sensitise members of the community, they also took part in sanitation exercise by cleaning strategic places in the community, while the waste were also collected for recycling, to promote the culture of waste recycling.
Through the intervention, Vicfold Recyclers will be visiting the community from time to time to off-take waste following the community service project.
While speaking on behalf of the group, Peter Arome said the need for a healthy environment and hygiene has become important particularly in the light of the COVID-19 pandemic.
He also observed that efforts like this will help to promote safe waste disposal, as such has become important in the global fight against climate change.
The Baale of Oke-Ose, Alhaji Ibrahim Ajadi, appreciated the mentees for the effort and intervention which he described as most thoughtful. He also assured them of the community's commitment to continue to maintain a clean environment.