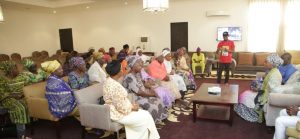 As the World Health Organisation marks International Day of the Midwife, and World Hygiene Day concurrently on Tuesday, The Wellbeing Foundation Africa's Alaafia Kwara Initiative has assured health workers in Kwara State of support.
The initiative established by former Kwara First Lady, Toyin Saraki, in a statement made available to National Pilot by Kwara Mission Manager of the Non-Governmental Organisation, Isaac Ejakegbe, Saraki stressed the invaluable role of the health care giver of development of health sector.
"The Wellbeing Foundation Africa (WBFA) and I have long known the invaluable role that midwives play in changing health outcomes for women and children. When we began our journey to improve maternal, newborn, and child health (MNCH) in 2004, we placed midwives at the centre of WBFA programs and policies.
"From our early interventions, the renovation and rehabilitation of the dilapidated Children Specialist Hospital, Centre Igboro, donation of children's isolation ward, playroom and midwives and nurses station, ambulance and water sanitation and hygiene services rectification, and our first community assistance program, the Indigent Medical Fund providing payment for essential maternity and child health services delivered to needy patients at state and federal government health facilities in the Kwara State, to donation of pulse oximeters and childcare crèche at the University of Ilorin Teaching Hospital.
"Through our 2011 Alaafia Universal Health Care Fund providing Community Health Insurance Capacitation Grants for 5000 health-seeking subscribers annually, and thereby guaranteeing remuneration for the medical workers that serve them, we have continued to support the recognition, quality improvement and respect for midwives and nurses as medical professionals in Kwara State."
"In 2010, we advocated for the passage of the Kwara State Safe Maternity Services Bill – the first of its kind in Nigeria – that guaranteed funding for midwives – matching this in 2016 Respectful Maternity Care Charter Program in partnership with the White Ribbon Alliance.
She added that all the interventions were because Nigeria has a long tradition of midwifery, with a vibrant, active community of dedicated midwives that have an unparalleled understanding of community needs and community sensitivities.
"We learnt so much from Nigeria's midwives, and we are grateful for their continued insight and support of our Mamacare360 Antenatal and Postnatal Education Program and Wellbeing For Water Sanitation and Hygiene Programs in Kwara State, as well as Lagos, Osun, and Kaduna States, and the Nation's Federal Capital Territory, Abuja.
"In April 2015, as members and commitment makers of the United Nations Secretary General's Every Woman Every Child Initiative, the Wellbeing Foundation Africa was delighted to facilitate the construction, establishment and donation of the ultra-modern Eruku Maternity Referral Centre to the Kwara State Government, in collaboration with global and national partners – bringing the highest global standard of specialist maternity referral care services to Kwara State – in conjunction with providing state of the art medical equipment and energy-efficient solar-sourced power generation.
"As a contribution to Nigeria's effort to combat and control the coronavirus pandemic, alongside our food bank palliatives distribution to ease the burden of lockdown social distancing on the vulnerable citizens well established Mamacare360 Antenatal and Postnatal Care Services for pregnant and nursing mothers in the state, and our Wellbeing For WASH initiative for infection prevention and control, we have also launched the innovative and freely accessible COVID-19 self-checker triage web-based application – I encourage every citizen to check themselves at covid19.wbfafrica,org every 7 days, and report symptoms promptly to state and federal health authorities for prompt assistance"
Saraki then assured concluded her Kwara State Healthworkers of her unflinching support, stating:
"As we mark the 2020 International Day of the Midwife on 5th May, alongside World Hygiene Day, and International Day of The Nurse on 12th May, the Wellbeing Foundation continues to support Midwives and Nurses in Kwara State through our strategic and innovative Emergency Obstetric and Newborn Care program implementation to improve the availability and quality of maternity services in Kwara State.
"We have donated 11 Simulation Skills Laboratories at public hospitals and continue to deliver quality improvement skills to 600 master-trainers and beneficial impact to 62,800 medical workers in 16 Local Government Areas of the State.
"Throughout the Year of the Midwife and Nurse, and this Decade Of Action And Delivery towards the 2030 Sustainable Development Goals, we continue to clap for midwives and nurses as essential carers, and applaud key medical workers with hand hygiene in health facilities and WASH."
Mrs Toyin Saraki is Global Goodwill Ambassador to the International Confederation of midwives, which represents over a million midwives and 600 midwifery associations in 136 countries.
A true humanitarian, still caring for Kwarans Health And Wellbeing 10 years after.