News
Covid-19: How Kwara govt allegedly shared N500m contracts to Lagos, Abuja, Adamawa companies
*14 CSOs demand explanation of N.1bn palliative expenses   *Residents urge isolation of Gov, cabinet after death CoS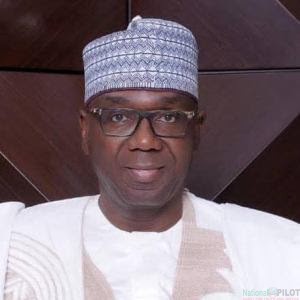 By Mumini AbdulKareem
Details of how the Kwara State government allegedly sidelined local contractors in the state in the award of contracts for Covid-19 projects emerged last night with findings that companies from Lagos, Abuja and Adamawa among other states across the county were the greatest beneficiaries of the government expenses.
Close to half a billion naira was reportedly expended on the award of the contract with about 15 companies as beneficiaries.
Last week, the State Government in a statement said a total of N1,569,107,944.70 has so far been expended on the Covid-19 pandemic between April 1 and June 29, a space of just three months.
Among the companies that reportedly benefited from the contract, it was learnt are Main Global Logistics registered in Victoria Island, Lagos which was said to have supplied three Toyota Land cruisers ambulances.
The money, a source hinted last night for the supply of the ambulances, was supposed to have been paid for in Aril last month.
An Adamawa based company, Ayudidibe Ltd was said to have supplied medical items worth N11m while Fuse Fuse Engineering, an Abuja based company was awarded the contract to supply mobile x-ray machine worth N28m.
Another Lagos based company located in Somolu, Abifash Supermart supplied 100,000 face masks at a price that could not be ascertained last night. But a source said most of the pricing runs into millions of naira. TAN Fashion, also based in Lagos was also contracted to supply 100,000 face masks.
According to the source, most of the contracts were approved only through memo without any tender.
Names of the other companies also contracted by the Governor, it was gathered are National findings are Emmnoch Enterprises which was awarded renovation of 6 blocks in Sobi Specialist hospital, Concel Engineering Ltd, renovation of 2 blocks in Sobi specialist hospital, Innov8 Industry Ltd for supply of two ventilators, Belourx Global Ltd, renovation of General Hospital, Offa, Concel Engineering Ltd for renovation of 4 blocks at Hajj Camp and Calidad Allied, renovation of 3 Wards in Sobi specialist hospital.
Others are Oakleaf Pharmaceuticals, supply of medical equipments and consumables, Greenwich Healthcare Ltd, supply of medical equipments and consumables, Jaadol Global (3 contracts), supply of medical equipments and consumables and Hifuga Nigeria Ltd, supply of 1000 pieces of face shields among others.
But reacting to the issue last night in a telephone call, the Commissioner of Information and Communication, Adenike Harriet Afolabi-Oshatimehin queried the source of the information adding that the government never said contract were not given to indigenes of Kwara.     
"Whatever the government said it has done, that is it and there were never a time that we said contacts were not given to indigenes of Kwara State. That is why I said where did you get your source of information, she submitted.
Last month, Indigenous Contractors and Suppliers in All Progressives Congress (APC), Kwara State chapter dissociated members of the association from the shoddy jobs by some contractors handling government projects across the state.
At a news conference held in Ilorin to address concerns over report that contractors handling some of the projects have poorly executed the jobs, president of the association, Alhaji Moshood Aigoro, said the association with over 25,000 members handled only two projects located at Esie and Edidi in Kwara South across the state adding that none fell short of the required standard.
According to him, the crop of engineers and suppliers required to deliver quality jobs are in abundance in Kwara state and therefore appealed to the state government to increase patronage for indigenous contractors as this would translate into economic empowerment for Kwarans.
While lamenting the implication of substandard and poorly delivered projects to the state government and the citizens, Aigoro reiterated that a Kwara based contractor who lives among Kwarans will not deliver substandard job for the people
He therefore restated the association support for Governor Abdulrahman Abdulrazaq and urged party leaders and elders to sheath their swords and unite for the benefit of the party and the state in general.
"Patronizing a Kwara based contractor will translate into economic empowerment for the people and we are ready to finance and executive any contract given to any of our members and get paid after the government is satisfied of our delivery because we are competent and understand that we should be partners in progress as the government strives to develop that state", he submitted.