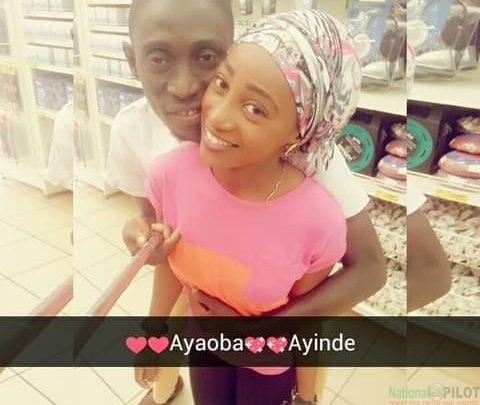 By Ahmed Ajikobi
A member of Jabata, a popular Islamic sect in Ilorin, Kwara State, Jamiu Deji Iyanda has been dragged to court for alleged abduction and burying of a 28-year-old lady, Hanifa Bashir without her family's consent.
It was gathered that the suspect who allegedly forcefully married the deceased did not consult Hanifa's family before burying her after she died during child birth at the University of Ilorin Teaching Hospital.
She was said to be pregnant with twins when the incident happened.
Speaking to National Pilot at her Baboko residence in Ilorin, the visibly distraught mother of the deceased, Mrs Zainab Bashir accused Iyanda of hypnotising her daughter, which subsequently led to the 'illicit' marriage.
She lamented that after her daughter died the supposed husband went ahead to carry out burial rites without consulting the family.
She added that the suspect hid under the cloak of his religious belief to perpetuate the alleged heinous acts.
On how Hanifa died, she said. "Penultimate Wednesday at around 5:16 am, I got a phone call from Iyanda that my daughter had fallen into labour and was at UITH.
"I rushed to hospital only to be told by him that my daughter had died. I was unable to see her corpse and was unaware when her remains were taken away by Iyanda."
She further said that the suspect went ahead to bury Hanifa without informing any of her family member.
"The family is very disturbed over this development because Iyanda did not marry our daughter legitimately," she explained.
According to her, Iyanda was introduced to the family in November, 2018 when Hanifa had just finished her NYSC.
"My daughter was five months pregnant when she came back from her NYSC. She was then told to bring home the person responsible for the pregnancy.
"It was then she introduced Iyanda to us. But we had a bad impression of him at our first meeting because he didn't curtsey to greet elders, which he hinged on his religious belief as a member of the Jabata sect.
"Nonetheless, the family asked him to bring his relatives so that we could make arrangement for proper wedding but they didn't show up. We gave him list of things required which his family did not still oblige", she narrated.
She narrated further that her daughter who was allegedly hypnotised by Iyanda ran away from home to live with him without the family consent.
Mrs Basheer said that her daughter was not well taken care of by her supposed husband, which made the family to be giving her N5,000 weekly.
"When her elder sister died Hanifa came home on condolence visit, it was then we discovered that she had emaciated. The family prevailed on her to stay back because of her bad condition and we were giving her N5,000 weekly. But, persistent threat from Iyanda made her to run away from home again to live with him, "she said.
The deceased's mum explained that the family had petitioned the state Commissioner of Police on the matter.
When contacted over the development, mother of the suspect, Alhaja Aminat Iyanda, who expressed sadness over the death of Hanifa, debunked allegations levelled against her son.
She denied that her son forced the deceased into marriage, claiming that their union enjoyed support from both families.
"We travelled to Omupo to meet her father and other extended family members and they all pledged support to the union.
"The Imam of Magaji Ngeri who is Deji's uncle went to Hanifa's family to collect list of things to be given to the bride's family, but they were yet to give us date for the proper introduction ceremony before Hanifa passed away," she added.
The suspect's elder sister, Saadat Kamoru also corroborated her mother as she insisted that Iyanda did not abduct Hanifa as alleged.
In his reaction to the matter, the Kwara state Commissioner of Police, Kayode Egbetokun said the matter was a direct complaint from the court, which was referred to the CIID for investigation.
"The case was referred last Friday which is 2nd of October. The matter is currently undergoing investigation. The CIID is going to do all necessary things and justice will be done to both victim family and suspect family."
However, narrating his account to National Pilot, Iyanda said his late wife's family are just hiding under false allegations to wrongly accuse him, adding that the truth of the matter is that, they are fighting him because of his religion. He said he prefer to reserve his comment for now on the matter since it is already in court.
"When we meet at the court, the whole world will know the truth on the matter", he noted.
Iyanda was also heard in an audio conversation which was obtained by our reporter denying the abduction adding that loved the deceased up till his death and also denied allegation that he permitted the surgery of the deceased without consent.
Also in his reaction, the leader of the Islamic sect, Sheikh Muhammed Ali Jabata debunked the allegation hypnotising anybody and described it as lies.
"I am a Muslim, an Ustaz who teaches his followers the word of Al-Quran, What Allah said and Hadith of prophet Muhammed (S.A.W). These allegations are just mere speculations and no one can give evidence on the matter".
He however declined comment on the issue of Iyanda since the matter is presently in court.