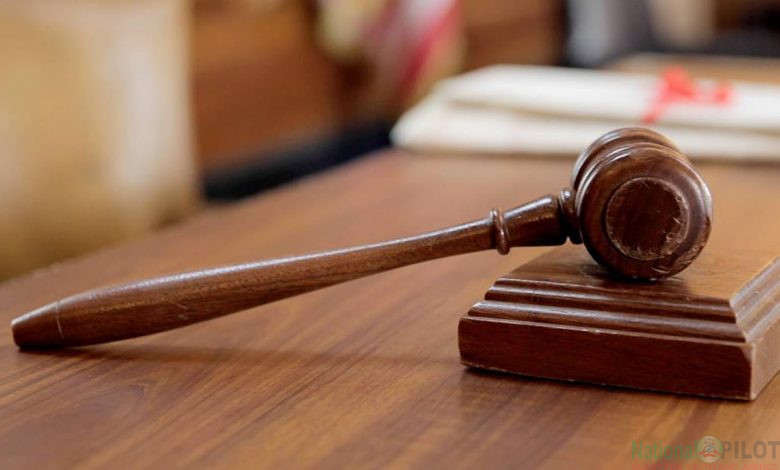 By Jimoh Sulyman
A Magistrate court sitting in Ilorin on Friday, 20th of August 2021, has ordered the remanded of a man for shooting a suspected Armed robber
The suspect, Ganiyu Kazeem was arraigned before Magistrate Kabeer Garba of Ilorin magistrate court.
Kazeem 46,who was a local security guard ,was arrested by the men of Nigerian police in Ijagbo Kwara state before he was transferred to criminal investigation department (CID) in Ilorin.
The suspect according to the First information report (FIR) was charged with 'Unlawful possession of firearms and culpable homicide' ,which is in contrary to section 28 (1) of firearms act CAP 146 ,law of the federation of Nigeria & 221 of penal code law.The counsel to the defendant, Barrister Toyin Onaolaopo, presented his client's case to the open court.
According to report obtained by National Pilot ,the suspect, Ganiyu Kazeem of Yidi area of Offa ,on 2nd of this month,while returning from his work in the early hours at about 6 am,claimed to have encountered the Now late suspected robber, Oyeyemi Abdulquadir.
According to the suspect, he saw Oyeyemi, Armed with a gun coming out from his family house and he tried to stop the late Oyeyemi for questioning but he refused.
His effort to stop the strange man, Oyeyemi and his refusal to be questioned prompted Kazeem to fire his single barrel gun at the deceased.
Oyeyemi was said to have succumbed to his gunshot wound and died while receiving treatment.
It was discovered that the suspect,  Kazeem was arrested after reporting himself at Divisional police headquarters in Ijagbo, Kwara state, at about 6:30 am of the same day of the incident.
Recovered from the suspect, were the single barrel gun with which he shot Oyeyemi, six live cartridges and one expended live cartridge.
Further investigation revealed that Oyeyemi Abdulquadir was not armed during the encounter as against the suspect's claim that the deceased was with a gun.
Magistrate Garba however ordered the remand of the suspect and adjourned the case to 3rd of September, 2021, for further mention.