News
Late Olusola Saraki was a beacon light to Kwara politics – Dan Borno
By Jimoh Sulyman
The late former leader of the Senate and political thinker,Abubakar Olusola Saraki has been described as the beacon light to the politics and politicians in Kwara state.
This was said Yesterday, by the astute preacher and the Mukadam Agba of Ilorin, Sheikh Sulyman Abubakar Dan Boronu, at the 9th years remembrance of the late Olusola Saraki, in Ilorin, the Kwara state capital.
The city of Ilorin was agog as multitude converge at Iloffa road of GRA area, for the 9th years remembrance and prayer for the late Waziri of Ilorin, Dr Abubakar Olusola Saraki, who was described as the father of modern Kwara politics.
The event was headlined by the children of the late 'Oloye', Waziri of Ilorin and the immediate past President of the Senate, Dr Abubakar Bukola Saraki CON and his sister, Sen Gbemisola Saraki, the Honorable Minister of state for Transportation.
Others present at the gathering are, Senator Rafiu Ibrahim, Hon Zakari Mohammed, Alhaji Kawu Baraje, Hon Ali Ahmad, Barr.Kamaldeen Ajibade, Hon Gbenga Makanjuola and Hon Babatunde Mohammed amongst others.
Gathering was graced by numerous clerics from Ilorin Emirate to lead in the prayer for the repose of the soul of the late Saraki.
The Clerics were led by the Chief Imam of Ilorin, Sheikh Muhammad Bashir Soliu with him are, Imam Imale ;Imam Gambari; Ajanasi Agba;Alfa Rabbana among others.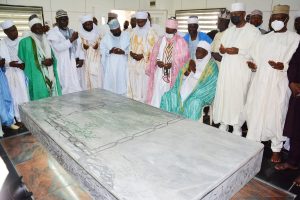 Bukola Saraki in a tribute to his father Olusola Saraki described him as a philanthropist and and astute politician, who dedicated the greatest part of himself to serving people.
"During his remarkable lifetime, through philanthropy and politics, Oloye dedicated the greatest part of himself to serving people. Sometimes, I still think that his mission here on earth was to positively impact every life that he encountered.
"This is why, today, as we remember my Dad on the 9th anniversary of that sad November day that he left all of us, we recommit ourselves to continue to build on the great work that he started while he was alive." he noted
Senator Saraki however prayed that, "Almighty Allah continues to grant Oloye a place amongst the righteous ones in Aljannah Firdaus."
In other part of his sermon, Dan Boronu stated that ,"Saraki was a God fearing and a selfless person who had positively impacted the lives of many people,and helped to put a lot feet aright on the pathways of life.
He said, "Many politicians are aspiring to attain his level of excellence and capacity most especially his quest for human development.
"Saraki's political legacy still lives and it had creates a political framework that the new crop of politicians are trying to emulate", he said.
Dan Boronu also noted that, "The late Olusola Saraki has an unquenchable passion for developing humanity and he dedicated his entire life until he breathe his last.
"He was an indiscriminatory and kind leader who doesn't care about the religious or ethnic affinity of his followers, he was only concerned about their productivity" the Islamic Scholar stated.