News
PDP Natl Legal Adviser, Ajibade gives scholarships to 25 students in Ilorin
By Jimoh Sulyman
The New PDP National legal Adviser, Barrister Kamaldeen Ajibade, SAN has exhibited his philanthropic side, as he awarded scholarships to 25 final year students across Ilorin West local government Area, from several higher institutions in the State.
The event took place on Sunday at the family compound of the legal luminary in Pakata area of Ilorin along with prayers organized for him by his community to commemorate his new appointment as national legal adviser of PDP.

The highlight of the event was the awarding of Scholarship to students under School Support Scheme which saw beneficiaries going home with a sum N50,000 each.
Ilorin West local government Area with 12 wards had two beneficiaries from each ward while Ajikobi ward had three. One of the special guests at the event, Mr Ayo Ajisefini however promised to include the names of the beneficiaries in the CBN intervention funds.
One of the beneficiaries from Alanamu ward, Isiaka Kafilat Kehinde was full of gratitude for the organiser of the project, Barr Ajibade,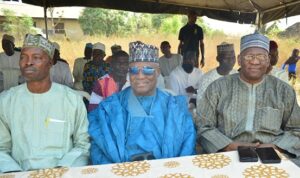 "I'm so grateful for this opportunity . We have been hoping for this kind of a thing for a long while now. We give thanks to God for making it possible and also to Dr Bukola Saraki for setting a good example, I pray God continue to bless our benefactor." she said
Another beneficiary, Habib Ridwan Olanrewaju a student of Kwara state college of Education, said " I give thanks to almighty Allah. I'm not even expecting this, I just received a call that I should come and benefit from this scheme. What surprises me a lot is that someone that is not in government doing something this great. One can only imagine what he will do when he is elected to a political office ".

Ibrahim AbdulWahid from Oloje ward a 300level student of Kwara state college of Education, Ilorin ,said "I'm actually shocked because I wasn't aware this programme was going on. I pray Allah continue to bless him and reward him abundantly for his kind gesture.
"I also was to urge others like him to emulate this and be of benefits to their communities in order to progress Ilorin and Kwara in general." he noted.
Omowunmi Sofiyat Ibrahim from Ubandawaki ward, HND 2 student from department of Public Administration of Kwara state Polytechnic expressed her gratitude and elation towards the scholarship given to her, she said, " I feel so happy and fulfilled, considering the state of things in this country and for someone to decide to assist others, I really appreciate him, may Allah continue to help him.".

The organizer of the scholarship programme, Barrister Ajibade while speaking to National Pilot said, " This is not the first time, this is something I have been doing over the years even while I was in government as a Special Adviser to the Governor and Commissioner. I just want people to see that it is not only when you're in government that you should empower people."
"I'm a private legal practitioner and as the saying goes, one shouldn't deny the favour of God, despite being out of government, we're trying to contribute our quota to the Society, so we give back to the people" he said.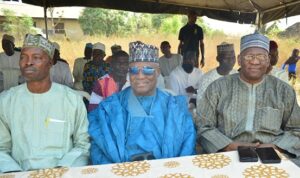 Ajibade however called on other well to do citizens to also repeat this programme in their communities. "With this I'm sure people will be encouraged ,this is a very nice thing, I just want to emphasize that it isn't only when you're in Government that people should benefit from you", he noted.

Dignitaries present at the occasion include, MD National Pilot Newspaper, Alhaji Billy Adedamola ; Former Commissioner for Justice, Barrister Saka Abimbola Isau SAN, Alhaji Abdulkadir Oba Ajara, Alhaji Hassan Gegele, Mallam Musa Abdullahi, DG Mandate; Alhaji Yekeen Ilobu ;PDP chairman, Babatunde Mohammed among others.
Sermon was delivered by Alfa Ajinikirun who admonished the people to put good deeds in all their dealings because that is what will bring them good ending. He also urged the leaders to provide for their followers as they have been ordered by Allah.