News
Malomo becomes Fellow of Chartered Institute of LGPAN 
The Principal Private Secretary to Kwara State Deputy Governor; Mr Ayantola Malomo Gbenga has been named a fellow of the Chartered Institute of Local Government and Public Administration of Nigeria by the Registrar/Chief Executive Secretary to the Council, Dr Uche Okereke in Lagos State on Thursday.

The investiture ceremony was held at the institute's Secretariat at Ebute Meta area of Lagos State.
Malomo thanked the institution for honouring him, noting that he has won several awards before now, but the fellowship is special to him because it is backed by the laws of Nigeria.
He however urged other Civil servants to always strive to enhance their careers by engaging in self developmental courses.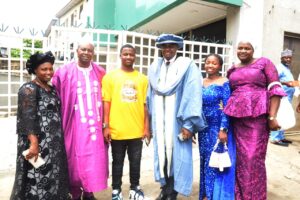 Adding that, "everyone should be intentional about their own progress and little savings can be made from time to time to fund extra courses and trainings."
Malomo also expressed his gratitude to his principal, Deputy Governor, Kayode Alabi, for creating enabling environment for employees attached to his office to advance in their careers without obstacles.