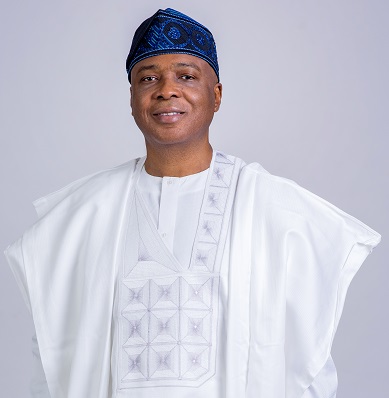 An aide to former Senate President, Dr. Abubakar Bukola Saraki, Abdulganiyu Abdulqadir, has described as false, unfounded, and irresponsible a statement issued by a pseudo group called Ilorin Project Advancement Initiative (IPAI) created by agents of the Kwara State Governor, Abdulrahman Abdulrazaq, which insinuated that Saraki was planning to disrespect the Emir of Ilorin, Alhaji Ibrahim Sulu Gambari.
Abdulqadir noted that any right-thinking person who read the statement by the pseudo group, IPAI, will know that it lacked logic and was not written by a responsible indigene of the Ilorin Emirate as the claim being made was not based on any reasonable point.
"The so-called group issued a press release signed by a so-called lawyer, One Barrister Sulaiman Ibrahim, and made spurious claims that somebody was planning to disrespect the Emir of Ilorin and create a rotational arrangement in the chairmanship of the Council of Traditional Rulers in the state without stating where such a statement was made, to whom, where such a silly idea was discussed and how that careless thought would be realised.
"In what capacity would Saraki nurture such a plan and for what purpose will he do so? Saraki left as Kwara State Governor 12 years ago and will never return to govern Kwara State again. The former Senate President is a son of the Emir who made him the Waziri of Ilorin, a top traditional title. He has always related with the Emir like his father and that is why out of respect and reverence for the traditional ruler, he will not involve the Emir in his politics.
"Rather, it is Abdulrahman Abdulrazaq, the present governor who in his desperation for support is using the names of our revered traditional rulers to play politics and peddling his fake influence to compel endorsement from our royal fathers. It is the governor who disrespectfully summons traditional rulers to Ilorin so that politicians in opposing parties to his own will not be able to pay courtesy visits to them when they go to campaign in their domains.
"Dr. Saraki will never disrespect the Emir of Ilorin or any traditional ruler, for that matter. He is a man well-grounded in culture and tradition. He is well brought up and he inherited a legacy of respect for royal fathers. That is why in all communities that he visits to engage with stakeholders on the coming elections, he pays homage to traditional rulers and engages with the royal courts to explain why the people should not reward failure.
"We are not surprised that Abdulrahman and his agents are engaged in this dirty tactics of peddling falsehood, spreading cheap propaganda, trading blames, issuing threats, planning violence, and creating tension in the state. They are desperate. They have no achievements to advertise. They have no good project, policy, and Programme to campaign with.
Four years have now been reduced to four months. The day of reckoning is near. Our people will sure not reward failure", Abdulqadir stated